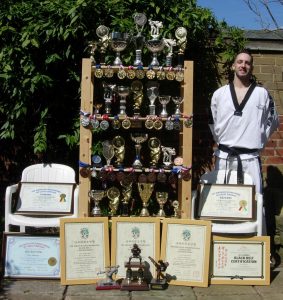 Mr Dave Shillabeer has over 30 years experience in martial arts.
He holds belts in Wado-ryu Karate, Samurai Jiu Jitsu and TAGB Taekwondo, and has also trained in Kickboxing, Judo and Thai Boxing.
He has been studying Taekwondo since 1999 and is currently a 5th Degree Black Belt.
He is a qualified Umpire, Referee and Instructor with the TAGB and has been running his own school based in West Sheffield since January 2009, with a new school opened in Stannington in February 2015.
As with all TAGB instructors he is first aid trained, CRB checked and fully insured.
Alongside being the Club Instructor Mr Shillabeer is also an active competitor and regularly competes in patterns, sparring, musical patterns, power events and destruction.
He was selected to represent the TAGB at the 100th Anniversary of Rotary International and performed in a demonstration in front of 25,000 people at Birmingham NEC.
He was also selected by 9th Dan National Squad Coach and TAGB committee member Grandmaster Kenny Walton to represent his team in the UK Area Championships.
He represented the winning England Team at the BTC Championships held in June 2012 and the Silver medal winning England Team at the European Championships, held in Poland in October 2012.
He is 30 times mens black belt National Champion at the English, Welsh and Scottish and British Championships and has also been:
3 x European Bronze Medallist
3 x European Silver Medallist
3 x European Champion
3 x World Bronze Medallist
4 x World Silver Medallist
and
7 x World Champion.
(current 6 x World Champion)
Over the last 10 years his classes have produced multiple local, regional, national and world champions.
Please see below for a couple of videos of Mr Shillabeer in action and his competitive history to date.
For More Photos and Videos please see the gallery page.
Competitive History
2023
TKDI World Championships
All Dan Individual patterns – Gold
Musical patterns – Gold
Team patterns – Gold
Point stop sparring – Bronze
Reverse side kick – Gold

Lincolnshire Championships
Individual patterns – Silver
Team patterns – Silver
Continuous sparring – Gold
Point stop sparring – Gold
Foot destruction – Gold
Best club – Bronze

Welsh Champs
Individual patterns – Gold
Team patterns – Bronze
Point stop sparring – Gold

Midlands Champs
All Dan patterns – Gold
Team patterns – Gold
Hand power – Gold
Foot power – Gold
Grand champ power – Gold
Foot destruction – Gold

English Champs
4th Dan plus patterns – Gold
Team patterns – Gold
Hand power – Gold
Foot power – Gold
Grand champ power – Gold
2023
2022
English Champs
4th Dan plus Patterns – Gold
Team Pattern – Gold
Foot Power – Bronze
Hand Power Silver
Grand Champ Power – Bronze

Welsh Champs
4th Dan plus patterns – Gold
Team patterns – Gold

North Midlands Champs
Sparring – Gold
Destruction – Gold
Tag team sparring – Gold
Grand champ power – Gold
Team patterns – Silver

British Champs
4th Dan plus patterns – Gold
Team patterns – Gold
Hand power – Gold
Foot power – Gold
Grand champ power – Gold
2022
2021
British Champs
Grand Champ Power – Gold
Speed Kicking – Gold
Team Patterns – Gold
Tag Team Sparring –  Gold
Hand Power – Silver
Fight Fit – Silver

Lincolnshire Championships
All Dan Patterns – Gold
Point Stop Sparring – Gold
Team Pattern – Gold
Best club overall – Bronze
2021
2020
Lincolnshire Champs
Online – Instructor Pattern – Gold

TAGB Online Patterns Comp North of England
Silver

Midlands Champs
All Dan Patterns – Gold
Foot Destruction – Gold
Hand Power – Gold
Foot Power – Gold
Fight Fit Power – Gold
Champ Champ Power – Gold
2020
2019
British Champs
Grand Champion Power
Foot Power – Gold
Fight Fit Power – Gold
4th Dan plus Patterns – Gold
Hand Power – Gold
Team Patterns – Gold

Lincolnshire Champs
All Dan Patterns – Gold
Point Stop Sparring – Gold
Team Patterns – Bronze
Tag Team Sparring – Gold
2019
2018
British Champs
4th Dan Plus Patterns- Gold
Team Patterns – Silver

North Midlands Champs
4th Dan plus Patterns- Silver
Foot Power- Bronze
Hand Power Bronze
Tag Team Sparring – Gold
Foot Destruction – Gold

TKDI World Championships
Grand Champion Power- Gold
Destruction (Reverse Side Kick) – Gold
Destruction (Side Kick) – Gold
Foot Power- Gold
Hand Power = Gold
Musical Patterns – Gold
4th Dan + Patterns – Silver
Team Patterns – Bronze

Lincolnshire Champs
Point Sparring – Gold
All Dan Patterns – Gold
Team Patterns – Gold

English Champs
Team Patterns – Gold
Grand Champion Power – Gold
Foot Power- Bronze

Midlands Champs
Grand Champion Power – Gold
All Dan Patterns – Gold
Continuous Sparring – Silver
Hand Power – Silver
Foot Power – Bronze
2018
2017
British Champs
Grand Champion Power – Gold
Foot Power- Gold
Hand Power- Gold
4th Dan+ Patterns – Silver
Team Patterns- Bronze

North Midlands Champs
Grand Champion Power – Gold
Foot Power – Gold
Point Stop Sparring- Gold
Tag Team Sparring- Gold
Foot Destruction – Gold

TKDI European Open
4th Dan+ Patterns – Gold
Tag Team Sparring- Bronze

Lincolnshire Invitational
All Dan Patterns – Gold
Point Stop Sparring – Gold
Tag Team Sparring – Gold

English
Grand Champion Power – Gold
Foot Power- Gold
4th Dan plus Patterns- Gold

Midlands
All black belt patterns- Silver
2017
2016
British
Grand Champion Power – Gold
Foot Power –  Gold
4th Dan+ Patterns – Silver

North Midlands
All Dan Patterns – Silver
Lightweight Sparring – Gold
Tag Team Sparring – Gold

TKDI World Championships
Tag Team – Bronze

Lincolnshire Open
All Dan Patterns – Silver
Tag Team Sparring – Gold
Team Patterns – Gold

English Champs
4th Dan+ Patterns – Silver

Midlands Champs
Patterns – Silver
2016
2015
Welsh
Tag Team Sparring – Gold
Sparring – Gold
4th Dan+ Patterns – Silver

Lincolnshire Open
All Dan Patterns- Bronze
Team Patterns – Silver
Tag Team Sparring- Gold

English
Sparring- Bronze
4th Dan+ Patterns- Silver
2015
2014
British Champs
4th Dan+ Patterns- Bronze
Tag Team – Bronze

South East Champs
Tag Team- Gold
Sparring- Silver
Patterns- Bronze

North Midlands Champs
Tag Team Sparring- Gold
Sparring- Silver

Lincolnshire Open
Best Club – 1st
Point Sparring – Gold
Continuous Sparring – Silver
All Dan Patterns – Gold
Team Pattern – Gold
Tag team Sparring – Gold

TKDI European Open
Point Sparring- Gold
Musical Patterns – Gold

English Champs
4th Dan+ Patterns- Bronze
Sparring- Bronze
Tag Team – Silver

South Midlands Champs
Patterns – Silver
Sparring – Bronze
Tag Team – Bronze
2014
2013
British
Tag Team Gold

South East
All Dan Patterns- Gold
Continuous Sparring- Gold
Tag Team Sparring- Gold

North Midlands
Foot Destruction- Gold
Power Back Fist- Gold
Tag Team- Gold
Point Sparring- Gold

World Championships
Point Sparring – Silver
Freestyle Pattern – Silver

Midlands
Sparring Gold
Tag Team Sparring Gold

Welsh
Patterns Silver

Lincolnshire Open
Point Sparring Gold
Tag Team Bronze
Team Pattern  Bronze
Patterns Gold

South Midlands
Sparring Gold
Grand Champion Silver
Tag Team Gold
2013
2012
British
Tag Team Gold
Patterns Gold
Sparring Silver

European Open
Team England- Silver
Point Stop Silver
Freestyle Patterns Silver

Scottish
Patterns Gold
Sparring Bronze
Tag Team Silver

North Midlands
Sparring Gold
Patterns Gold

Midlands
Patterns Silver
Sparring Gold
Tag Team Gold

Welsh
Patterns Bronze
Sparring Bronze

Lincoln
Patterns Gold
Point Sparring Gold
Continuous Sparring Gold
Tag Team Gold

English
Sparring Gold

South Midlands
Patterns Silver
Sparring Gold
Grand Champion Gold
2012
2011
British
Patterns Silver

Lincoln
Patterns Gold
Point Sparring Gold
Continuous Sparring Gold
Tag Team Gold
Best Club Bronze

North Midlands
Sparring Gold
Patterns Gold
Foot Destruction Gold
Best Club Gold

Midlands
Patterns Gold
Tag team Silver

Welsh
Patterns Gold

English
Sparring Silver
Patterns Silver

South Midlands
Patterns Gold
Pattern Grand Champion Gold
2011
2010
Worlds
Freestyle Pattern Gold

Lincoln
Point Sparring Gold
Continuous Sparring Gold
Patterns Gold
Team Patterns Gold
Best Club Silver

South East
Patterns Gold
Sparring Gold
Tag Team Silver

Midlands
Patterns Silver
Sparring Gold
Tag Team Gold

Welsh
Sparring Silver

English
Tag Team Silver

South Midlands
Sparring Silver
Tag Team Silver

Sheffield TKD
Competitor of the Year
2010
2009
Sheffield TKD
Competitor of the Year

Lincoln
Tag Team Bronze
Team Patterns Gold
Foot Destruction Gold

Scottish
Foot Destruction Gold
Tag Team Silver

South East
Patterns Gold
Sparring Gold
Tag Team Gold

Midlands
Tag team Gold
Patterns Bronze

North Midlands
Patterns Bronze
Sparring Gold

South Midlands
Sparring Gold
2009
2008
South East
Patterns Bronze
Sparring Bronze
Tag Team Silver

Scottish
Foot Destruction Gold
Tag Team Bronze

Midlands
Sparring Bronze
Tag Team Gold

British
Foot Destruction Gold

WAKO Yorkshire Open
Sparring Silver

North Midlands
Sparring Gold

South Midlands
Sparring Gold
2008
2007
Scottish
Tag Team Bronze

Interclub
Sparring Silver
Tag Team Silver
Patterns Gold
2007
2006
English
Foot Destruction Gold
Patterns Bronze
2006
2005
Worlds
Freestyle Pattern Silver

British
Sparring Silver

English
Sparring Bronze
Foot Destruction Gold
2005
2004
English
Patterns Gold

BSTF
Patterns Bronze
Sparring Silver
Foot Destruction Gold

South East
Sparring Silver

GTUK
Sparring Bronze
2004
2003
BSTF
Foot Destruction Gold
Sparring Gold
Patterns Gold

British
Sparring Bronze
2003
2002
Midlands
Patterns Bronze
Sparring Bronze

British
Sparring Bronze

London Area
Sparring Silver
Tag Team Silver
2002
2001
English
Patterns Bronze
Sparring Silver
2001
2000
British
Sparring Bronze

Rickmansworth TKD
Student of the Year
2000