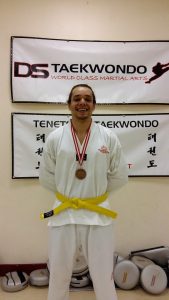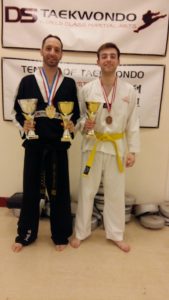 So the first National comp of the year kicked off 9am sharp at Worcester Arena on March 12th 2017.
Eden Wallace and Luke McGillicuddy were the only entrants alongside Mr Shillabeer but both performed well. Eden won his first fight against a rather wild opponent in the heavyweight division but narrowly lost his second fight and just missed the medal positions. Luke had a smaller division in the welterweights and after a bye was straight into the final! Victorious over his opponent he continued his winning streak from the Midlands and is now English Champion! Both lads teamed up for the tag team event and secured a bronze in that too.
Mr Shillabeer was still recovering from shoulder injury so no sparring events but he became triple English Champion…. winning the 4th Dan plus patterns event, the foot power event and the Grand Champion Power event too.
A good day out all round!
Next comp— our long anticipated CLUB COMPETITION………….SAT 8TH APRIL….3PM AT TAPTON HALL….ENTRY DEADLINE:   FRIDAY 31ST MARCH